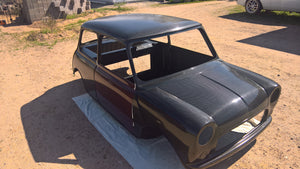 Classic Mini Body Shell
Sale price Price $15,000.00 Regular price
The R7 body shell can be produced in carbon fiber or fiberglass. It can be an upper shell, intended to be placed on a tube frame or a full shell with floor and bulkheads. The full shell can be made with an integrated internal carbon structure for rigidity or as a straight monocoque which will need a roll cage installed. 
There are many options for exterior styling, from the stock look MKI shell to wide body and race shells similar to the classic GT5 and Fortec race cars. Some of the options include a variety of arches, spoilers, scoops, glue in wind screens, roll up side windows, and a selection of materials. Prices for the standard shell range from around $5500 for a fiberglass upper shell to 13000 to $16000 for a full shell in carbon. 
We are currently working on three uniquely designed bodies and are looking for investors to help see this through. All three are based on the standard MKI shell but have some updated design features and looks. The first being more of an outlaw / cafe' racer design. Second with a lot of aero and DTM styling. And third bring a lot of the feel of modern WRC rally cars.
We're hoping you'll get on board with this endeavor by securing an order, sponsoring, or just purchasing some merch and following the projects.