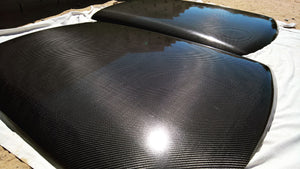 Carbon fiber replacement roof
Sale price Price $1,550.00 Regular price
(The carbon fiber roof is made as a replacement for the original steel roof. The original roof need to be cut away leaving about one to two inches of material for the carbon roof to adhere to.
The roof is made with twill weave carbon, 2mm core material or stiffening ribs.
Adhesive is not included but product recommendations can be provided.
SHIPPING IS NOT INCLUDED IN THE PRICE:
Arrangements can be made to pick up the roof or actual freight shipping costs will be charged before shipping.